Sunglo Model A244 and A244V

Sunglo - Infrared Radiant Gas Fired Outdoor Patio Heaters by: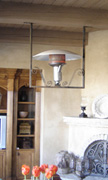 Gas Fired Outdoor Sunglo Patio Heater
The Sunglo outdoor patio heater is the original "Patio Heater" and has been in production for over 40 years. Sunglo heaters are designed to give the consumer years of use with minimal maintenance. It's cylinder shape and umbrella like reflector emits a dome of heat encompassing up to 15' in diameter. Radiant energy is only absorbed by solid objects and not wasted heating the air.
They are available in four configurations; Freestanding, Portable, Suspended and Self-contained. They come in a variety of colors including Silver, Black, White, Green and Stainless Steel. Sunglo outdoor patio heaters are a trusted standard for patio heat in popular hotels, restaurants and cafes, swimming pool and spas areas. Evermore popular outdoor kitchens are trusting Sunglo to extend use by keep the living space comfortable!
Sunglo patio heaters are offered in 48,000 btu's for portable LP units or 50,000 btu's on there Natural Gas Units.
| | |
| --- | --- |
| | Portable, Freestanding or Ceiling Mounts |
| | CSA IAS and AGA Design Certified |
| | Natural or Propane Gas |
| | Direct Spark Ignition (available) |
| | 100% Safety Shutoff |
| | Economic and Convenient |

The effective range of a Sunglo outdoor patio heater when mounted on a post is 10'-15' diameter 'at the "comfort zone" (normal sitting height) in most applications. Most people feel the effective range of the Sunglo heater when sitting within 7' of its post.

The Sunglo ® patio heater provides radiant warmth outdoors for you, your family and friends. Its attractive hanging brackets fits easily into many architectural designs. Sunglo ® is CSA design certified as an unvented infrared heater for outdoor installation.
The Sunglo A244 is a perfect unit for most high ceiling applications. They maintain a large footprint of heat, operate with the flick of a switch or manual operation and require minimal service.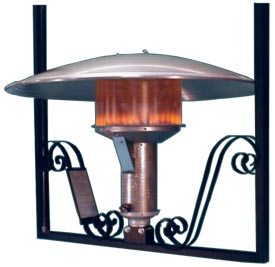 Key Benefits
| | |
| --- | --- |
| | Overhead - keeps floor space open! |
| | 50,000 btu's - High heat output - 100% Safety Shutoff |
| | Attractive Mounting Frame |
| | Available in a 24V or Manual Configuration |
| | AGA/CGA/ISA Approval |
| | Design-certified as an un-vented infrared heater for outdoor or indoor installation. |
The Sunglo A244 & A244V outdoor patio heater has a stout built frame with 4 attractive scrolls. Its finish is a long lasting powder coat black and is easily cleaned.
Please see our A244 pdf document (page 9) for more installation information.